Sleep Systems for Plus Size Backpackers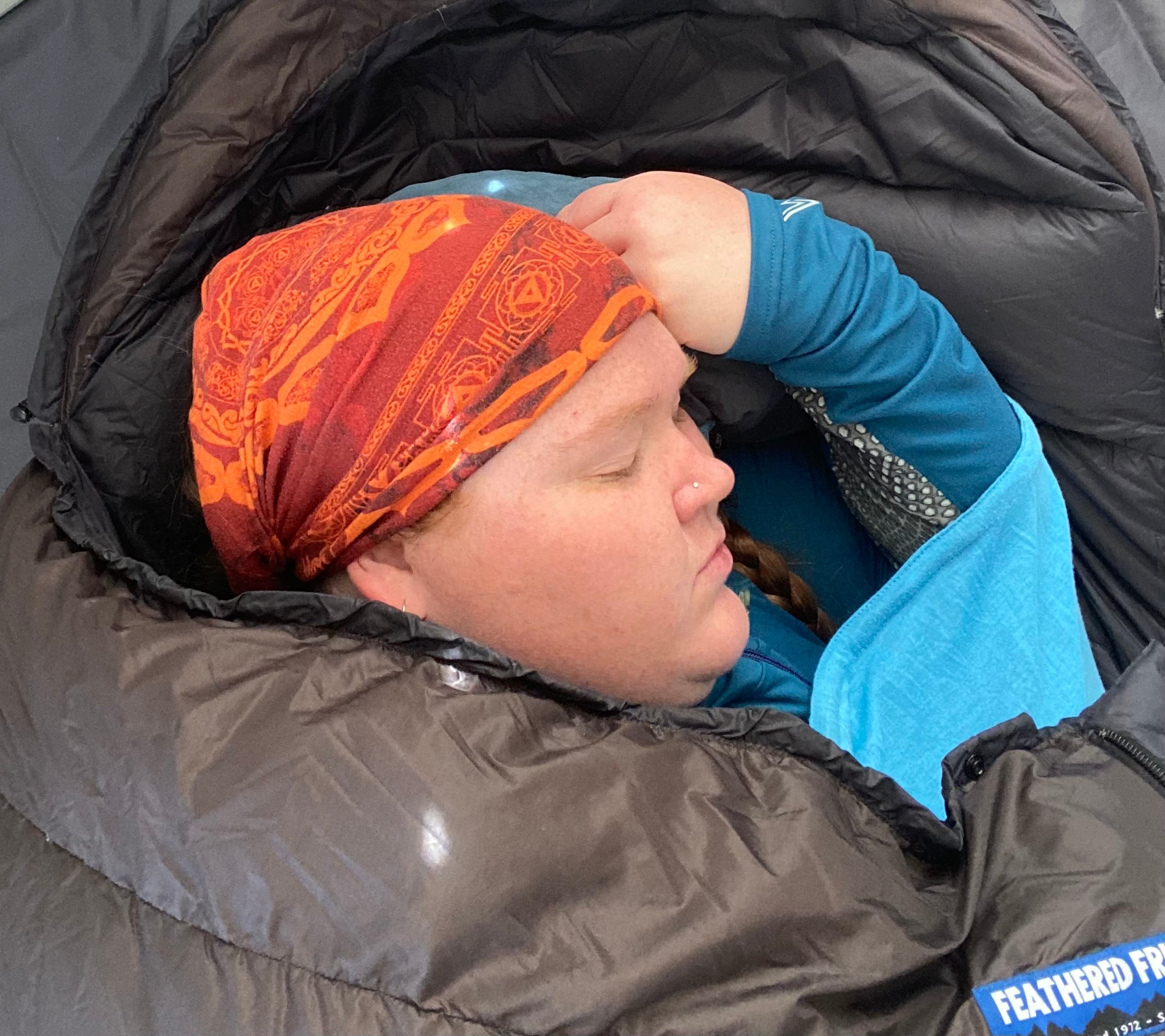 Finding a comfortable sleeping system is the Holy Grail of backpacking, if you ask me.
Once, after a particularly sleepless weekend trip I embarked on a mission to find the Perfect Bag.
But first... what is a sleep system.
A backpacking sleep system consists of the same backpacking gear layers you're already familiar with:
base layer (clothing to sleep in)
mid layer (sleeping bag liner)
insulation (bag

 

and

 

mat)
outer layer (shelter)
foot protection (socks)
head protection (pillow/cushion and a hat)
We're going to be looking at this in a multi-part series. Today, we'll be focusing on:
Finding the Perfect Bag
The very first step of any good mission is to make a list. Here's what I recommend:
Take an honest assessment of how you sleep at home--side, back, stomach, like a starfish, curled up in a ball, one foot hanging out of the covers, with your head covered, all of the above, etc
Take a realistic assessment of how you tend to sleep in the woods--do you wear a beanie? Do you scrunch all the way to the bottom of your bag? Are you too hot? Too cold?
Pros and cons of your current sleep system--weight, shape, warmth rating, length of bag, how the baffling system works
For me, this looks like this:
home: I sleep in every orientation with one foot hanging over the foot of the bed out of the covers
packing: I scrunch all the way down so my head is covered, which means I'm kind of in a ball. Will a hood solve my problem?
starting system: I started with a short bag because I'm not particularly tall. I find short bags uncomfortable. I like a hood as a feature. Down is a must. (even living in the PNW, I prefer down for warmth vs weight)
Then I went to my local outfitters and climbed in every. single. bag. they had. Hated most of them. Liked a couple ok.
After this exercise I added one important piece of information to my list:
Anything other than a rectangular bag is designed by the devil himself. I'm willing to sacrifice weight to get warmth and shape.
Then, I did what any money conscious person would do: I rented the bags that they had available (in styles I liked) to try out for a couple of nights. Turns out those weren't for me.

Sleep is golden.
I bit the bullet and headed to Feathered Friends (not sponsored, we're just GIANT fans!) and climbed into their test bags (yes, lucky me, I was in Seattle!). I ended up buying a rectangular sleeping bag. At the time, everything was made to order, so I was able to add some extra down for a reasonable charge (note: according to their FAQ they no longer customize bags, but have added a note that "If you have a special consideration, please contact us." So, if you need something a little roomier than what they offer, maybe try anyway?). I also ended up with a hood, thinking maybe that would solve for my head covered while camping needs (spoiler: it didn't, but I don't regret the hood).

Friends. Friends. That bag is HEAVEN. I love it. Worth every penny.

Since it is also expensive, I use it all 4 seasons. When it's warm out, I end up using it like a quilt. 
Which brings me to my next point: 
Maybe consider sleeping bag alternatives. The backpacking quilt craze kicked off well after I bought my bag, but maybe I would have liked using one?
Final Thoughts
As you can tell, we're not building an ultralight sleep system here, some of my choices are heavier than other options out there. For me, I'm swapping weight for comfort, you should do what makes you happy!
Happy hiking!
---