Sleep Comfort for Plus Size Backpackers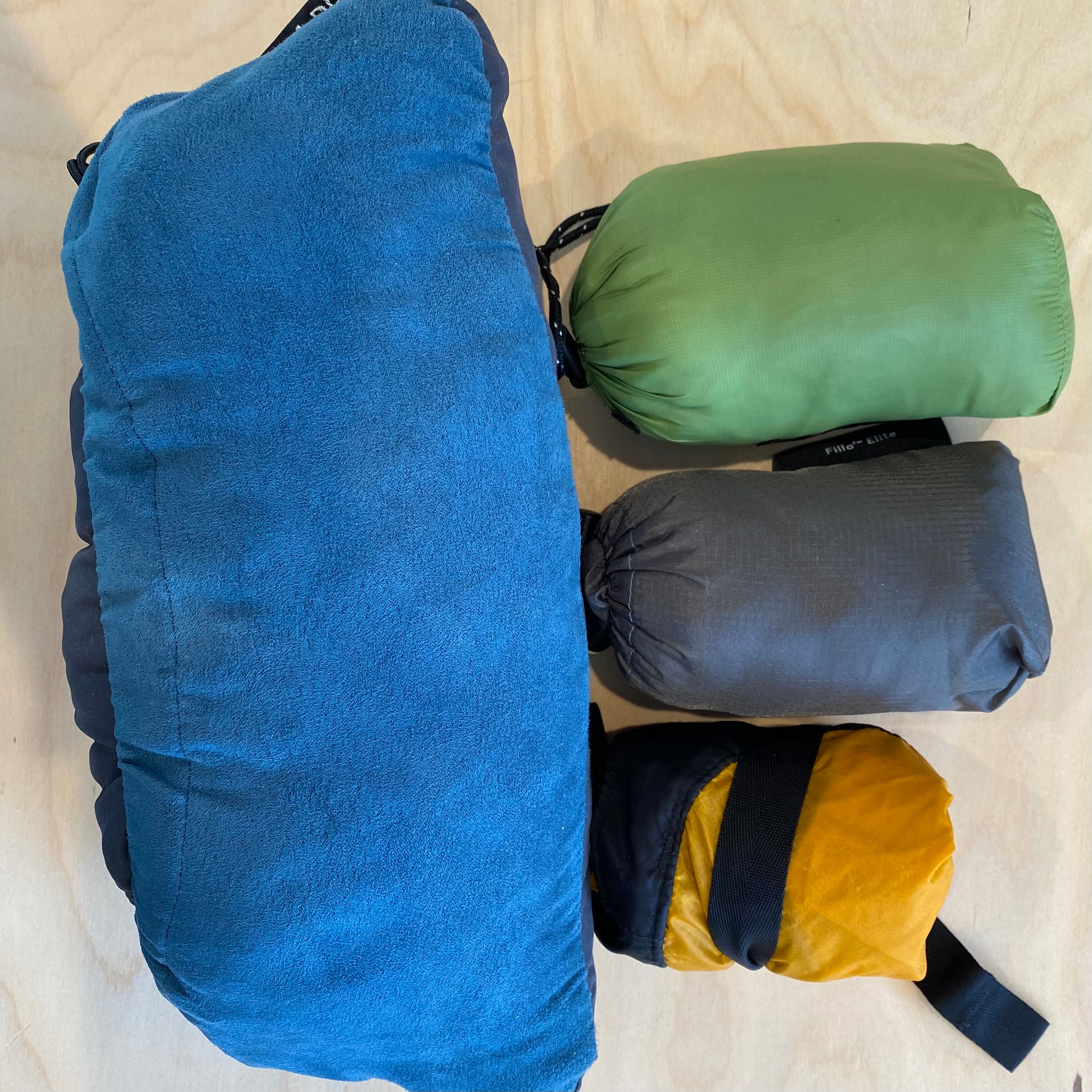 Finding a comfortable sleeping system not to be overlooked when heading out backpacking.
This is part 4 in a 5 series on how to build out the perfect sleep system for you. 
But first... what is a sleep system.
A backpacking sleep system consists of the same backpacking gear layers you're already familiar with:
base layer (clothing to sleep in)
mid layer (sleeping bag liner)
outer layer

 

(shelter)
foot protection (socks)
head protection (pillow/cushion and a hat)
We covered both parts of the insulation layer here and here and the mid layer here. Now, let's round out or list with your head and feet.
Pillow Fight!
You need a pillow. Yes, that's right. I said it. You. Need. A. Pillow. We generally don't recommend you bring the pillows off your bed out there with you, but you definitely need something under your head to keep yourself sleeping well and cozy.
There are five main pillow types:
Inflatable
Compressible
Hybrid
Stuffable
Stuff sack
The way you sleep is going to impact which style of pillow you find the most agreeable. So let's find out more:
Inflatable: As the name implies, these are air bladders that you fill up and use as a pillow. Don't feel like you have to fill them all the way up to firm--you'll want a bit of give in your pillow.
Compressible: These pillows are closer to what you have at home (albeit smaller and probably lumpier). They come with the trade off of bulk and weight.

Hybrid: Hybrid pillows strive to strike the balance between inflatable and compressible. They're typically air bladders with a compressible layer on either one or both sides. Like all hybrids, they might be perfect for you, or just not enough of one or the other to meet your needs.
Stuffable: Stuffable pillows are a newer style of pillow, hoping to attract the backpacker who is more concerned about weight than most anything else. They typically have a thin compressible layer over a closeable sack. The comfort level is user controlled, as the fill is whatever you want to shove inside. They're a modern take on the stuff-sack-as-a-pillow that outdoorsy folk have been using we put things in bags to head into the woods. 
Stuff sack: Which brings us right to the "just use a stuff sack" crowd. This is the lightest and most cost effective pillow option out there. It adds 0 weight or cost to your set up as you simply empty out a stuff sack you brought with you and fill it with whatever soft things you have lying around. Pro-tip: I put in tomorrow's clothes. Since the pillow is under my head all night long my clothes get a little more warmth to them than if they were nearly anywhere else. 
I've field tested a variety of pillow options, but always come back to my trusty stuff sack. I use the compression sack from my sleeping bag and turn it inside out so I don't have straps in my face all night. My husband usually grabs one of the compressible pillows in our stash. And our kiddo? Well, he takes over the pillow of which ever parent he's snuggling with at the moment. 
It's Cold Out, Wear a Hat
Sleeping outside requires some adaptation on your part. You'll likely find you get much colder at night than you do at home. You've probably addressed this with a nice warm sleeping bag and hopefully a liner. Now, let's talk about hats. This is an area where experimenting is the only way to do it. For me, beanies are too warm and sometimes slide off, so I need something lighter weight. I don't want to use ties because that just seems like a recipe for disaster... I usually use a lightweight neck gaiter or tube scarf (Buff is probably the best known brand out there). I find the versatility makes it much more convenient and comfortable for me. 
And some socks
When crawling into your sack at night, don't forget to pull on some clean socks! They can be as lightweight or heavyweight as you'd like, but we always recommend them to help fight off the cold night chill. As a bonus, they're easily removable if you find yourself getting overheated.
Personally, the socks I wear to bed are the socks I wear tomorrow, that way I always have a cleanish pair for sleeping.
Final Thoughts
From head to toe, being warm and comfortable is a matter of survival and enjoyment. There's no reason to suffer when sleeping.
Happy sleeping!
---